Email Marketing Techniques
Email marketing techniques is a part of the overall marketing strategy and business plan. It helps one to market their products and services with the use of the email channel with the best chances for making a profit and reaching their goals and objectives. That is because an effective email marketing techniques makes sure that one get the attention of their customers, their preferences and benefits they are looking for.
Personalizing your Emails: Most people will feel special if they find an email that is actually personalized to them with their name. A common way to personalize emails is to use the subscriber's first name in the subject line and email copy. However, today one must have the opportunity to access much more data that can help them improve their personalization tactics that can improve the chances of making their email campaign profitable.
Appropriate Subject Lines: A subject line is considered as a very important aspect for an email campaign. The subject line can range from 30 characters to 100 characters. Some email subjects with less characters might have results with more click rates while some might result with less click rates. It all depends on the subject line content, characters, creativeness and appropriateness.
Segment your Subscribers: One must segment their subscribers and contacts appropriately so that they could be segmented into lists for future email campaigns. If one wants to create the best email marketing campaigns that can help them get a return on their investment, then they must segment their email subscribers and contacts according to various data points.
Optimize Emails for Mobile: Since more and more people are accessing their emails through mobile devices, it's important to formulate the best email techniques for one business that lets them tap into mobile. One must optimize their emails not only for the desktop but also for the mobiles. Nowadays, more than 50 percent of the emails are accessed through mobile phones, so optimizing the emails for mobiles will definitely lead to more active subscribers in the future.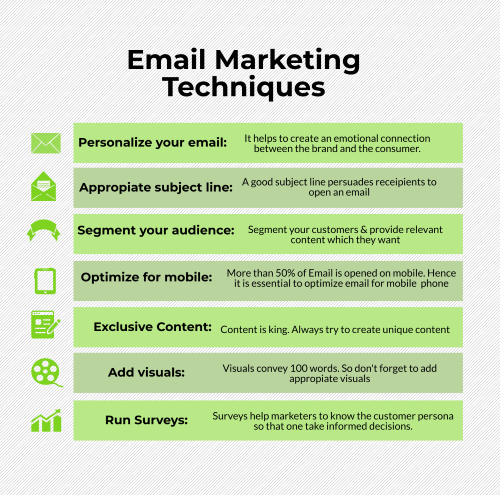 Exclusive Email Content: Sending exclusive content to one's subscribers list doesn't mean that one must spend hours or days to create unique email content. The content can be something simple, but it must give the subscribers something they can learn from. So, it's more quality than quantity. If one use an auto-responder to send out emails, then they can can create a series of exclusive content and add it to their email sequence.
Address Inactive Subscribers: Re-igniting the interest in one's inactive subscribers by sending them an email might be considered as a good marketing technique. Let them know that they're missed and want them back with a subject line that says just that. One can consider giving them a special offer or discount. Move those who respond to the active list and let those who don't respond know that they will be removed from the subscribers list if they don't respond within a specified time frame.
Adding Visuals to Emails: Adding visuals to one's email marketing is also considered as a good marketing technique for their strategy. Many of the email users now prefer their emails in images rather than in content format for simplicity. One must use relevant smaller sized images in their emails so that they will load faster and show off their personalization through visuals.
Run Surveys to get more Information: When someone subscribes to one's email list, they have already shown interest in the mail content. Once they have joined the subscriber list, it's time to give them an opportunity to engage with a conversation. Getting one's subscribers to respond to their emails and divulge more information about them is something that one should always be aiming for. Once someone signs up and opts-in to the offer, one can send them a survey along with a thank you note. However, simply asking them won't work as they need the motivation for them to step in taking action. Depending on the business, one can offer them a certain incentive that is appealing to them. Make sure it is relevant and valuable.
As with most marketing efforts, being able to create effective email marketing campaigns is a process. It requires a combination of good strategy, planning and analyzing data to make improvements to your campaigns. However, the only way to learn and improve is to start emailing and getting feedback for improvement if needed in the future.